Welcome to Black Blood Brothers Wiki

Black Blood Brothers wiki is a site where you can contribute anything you know about the anime Black Blood Brothers! Join us now!
PLOT
During a fictional war called the Hong Kong Crusade, an Old Blood vampire,
Jiro Mochizuki
, a.k.a. the Silver Sword (銀刀 Gintō?), fought and defeated the Kowloon king and also most of the Kowloon Children. Ten years later, Jiro heads to Japan with his little brother,
Kotaro
, in hopes of reaching The Special Zone, a thriving secret city where vampires live. They soon realize that a plan to infiltrate The Special Zone is being hatched by the Kowloon Children survivors. As they travel to The Special Zone, Jiro encounters enemies from the past and new threats that may endanger the safety of the Special Zone. The abduction of Kotaro, by one of the Kowloon Children, thrusts him even further into the battle.
Featured Article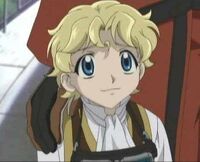 Kotaro is Jiro's ten-year-old, younger brother, who does not seem to exhibit powers of a vampire, such as the "Hide Hand." Although, he seems to have an extremely high pain tolerance: as he is thrown into the ground and walls without injury in almost every episode. As commented by Mimiko, he does not appear to be the brother of Jiro since he is not hurt by sunlight nor water, unlike Jiro. Another fact is that they look totally different from each other: Jiro is tall, has black hair and brown eyes, while his brother is short, has blond hair, and blue eyes. Kotaro stated that they are brothers because they are the last two remaining vampires of their special bloodline. . . .
HELP ADD CONTENT TO THE EXISTING PAGES AND CREATE NEW ONES AS WELL!