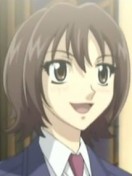 A human compromiser who is sent out to mediate the relationship between humans and vampires. She was an orphan that was raised by the Order Coffin Company, her direct superior Jinnai Shogo, which she now works under. She also works alongside Hibari Kusunogi, but she's not to keen on her obsession with gossip.
Although considered taboo by the Company, she allowed Jiro to drink a bit of her blood when he was too weak to keep fighting. In the end, she ends up living and working with both Kotaro and Jiro. Mimiko and Alice have similar ideals, she is a strong and independent woman, who tries to understand Jiro's situation and shows that she holds no prejudice against any race. Even when she was taken hostage by Cassa, she was intrigued by the conversation she had with her and expressed a desire to talk to her again. She appears to have a crush on Jiro, this would explain why she blushes when she sees him, and allows him to drink her blood when he desperately needed strength.
Voice credits
Edit
Ad blocker interference detected!
Wikia is a free-to-use site that makes money from advertising. We have a modified experience for viewers using ad blockers

Wikia is not accessible if you've made further modifications. Remove the custom ad blocker rule(s) and the page will load as expected.